Maker Faire Rome 2022 chiude tra gli applausi
Si è da poco conclusa la decima edizione del "Maker Faire Rome- the European Edition". L'evento sull'innovazione e sulla tecnologia organizzato dalla Camera di Commercio di Roma e ospitato proprio nella capitale ha contato ben 45mila presenze.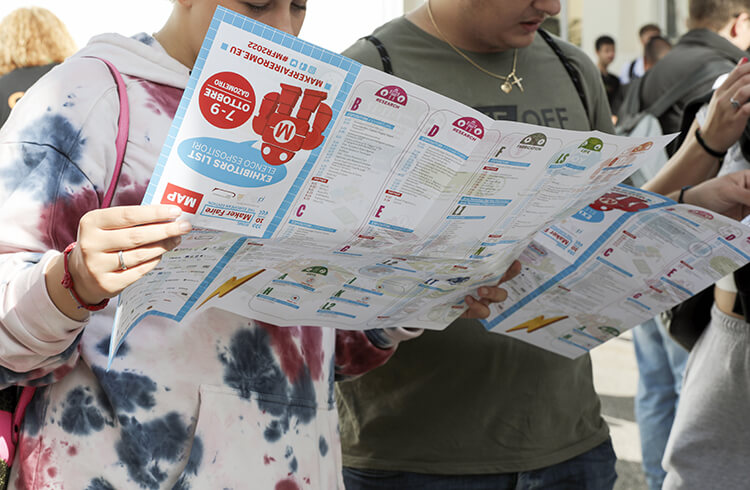 L'evento, ormai famoso a livello europeo ha sempre riscosso un grande successo di pubblico anche grazie ai diversi partner pubblici e privati.
I temi che sono stati affrontati
Durante questi tre giorni di evento, dal 7 al 9 ottobre 2022, la condivisione di idee e spunti ha coinvolto cinque temi fondamentali:
Robotica e intelligenza artificiale in collaborazione con I-RIM e il Laboratorio nazionale di Intelligenza Artificiale del Cini. A presentare prototipi utili a svariati settori sono state le università e non solo. Oltre ai diversi incontri al riguardo anche la consueta dimostrazione di intelligenza artificiale.
Tutto nuovo è stato il Virtual reality Movie Festival con film in realtà virtuale e girati con tecnologie immersive per tutti i gusti.
Nulla è più innovativo dell'arte per questo, ospite all'evento anche una sezione di MakerArt, con Quayola.
Di fondamentale importanza è stato il tema dell'innovazione agroalimentare e sostenibile con 40 soluzioni per l'ambiente
Per le nuove generazione che si affacciano alle nuove tecnologie proprio grazie al MFR, sono state presentate tecnologi innovative per tutte le età
I protagonisti
Durante l'evento ci sono stati molti momenti di confronto e di presentazione.
Di particolare rilievo quelli di:
Kenneth Mikkelsen, Ceo & Founder di Future|Shifts, speaker, saggista, autore di "The Neo Generalist", che ha parlato di competenze, modelli organizzativi e leadership. Ha sottolineato come la formazione sia lo step principale per avviare un processo di miglioramento.
Julie Andersen, Ceo & Co-Founde di Plastic Oceans che vede nel corretto sviluppo tecnologico una speranza di ridurre l'impatto della plastica. La tecnologia è infatti parte del problema e parte della soluzione.
Andrea Devicenzi, atleta paralimpico, coach, che ha ricordato a tutti che "impossibile è il limite che ognuno di noi si crea nella testa" e migliorare è possibile per tutti.
Tony Fadell, ingegnere statunitense, Ceo & Founder di Futureshape, ed inventore di Ipod.
Matthias Mayer, Director Europe di Ifixit, che grazie al suo aiuto ha reso possibile la riparazione e il riutilizzo di prodotti che molti avrebbero gettato via. La limitazione degli sprechi deve essere prioritaria.
Jonathan Menhuin CEO di Israel Innovation Institute.
Quayola, artista, che ha presentato qui l'opera digitale Storms.
Julya Stoyanovich – New York University I Associate Professor Tandon School Of Engineering, ricercatrice.
Marco Frittella, Direttore RAI LIBRI, Giornalista, saggista, conduttore TG1. professore universitario e autore del libro "L'oro d'Italia" che ha parlato dell'importanza dei beni culturali e della conservazione e valorizzazione del territorio per i giovani e con i giovani.
Sono dunque tantissime le voci che hanno condiviso il loro pensiero a favore dello sviluppo tecnologico e dell'ambiente in un evento che in 10 anni è già diventato un must.
Contatti
Per restare sempre aggiornati su questo grande evento:
www.makerfairerome.eu
Facebook: @MakerFaireRome
Twitter: @MakerFaireRome
Instagram: @MakerFaireRome