MailUp Marketing Conference, a Milano un grande evento sul marketing digitale
Condivideo.live partner dell'evento di MailUp per le interviste a relatori e ospiti dell'evento del 12 dicembre, che ha riempito la grande sala di Palazzo Mezzanotte, in Piazza degli Affari.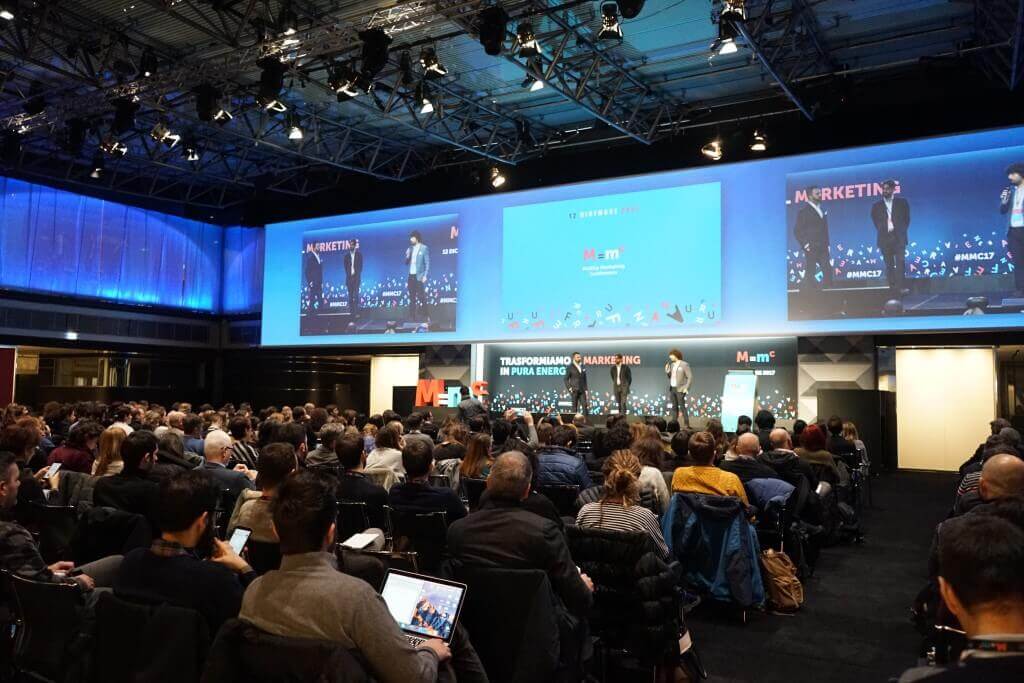 Un evento riuscito e ricco di ospiti di caratura internazionale, la prima edizione della MailUp Marketing Conference , con un'agenda fitta di interventi che hanno spaziato a 360° sulle tematiche e i trend del marketing digitale.
L'evento
La Conference, presentata da Salvatore Russo, Marketing Manager di 6sicuro.it  e ideatore dell'evento SEO&LOVE, si è aperta con una breve introduzione dei padroni di casa, Luca Azzali e Stefano Branduardi, rispettivamente General Manager e Marketing Director di MailUp. I due rappresentanti dell'azienda organizzatrice hanno illustrato l'approccio di mailup al mercato, ai clienti e all'innovazione, con focus sulle principali novità previste per il 2018.
Di seguito le interviste ai protagonisti dell'evento, realizzate dallo staff di Condivideo.live e tenute da Claudio Gagliardini, Marketing Manager di Seidigitale.com.
Interventi keynote del mattino
Marketing data driven: le opportunità per il mercato italiano
Marta Valsecchi, Direttore dell'Osservatorio Omnichannel Customer Experience del Politecnico di Milano.
La Valsecchi ha illustrato come, nel corso dell'ultimo anno, siano stati raccolti più dati che nell'intera epoca precedente. I dati rappresentano il nuovo "oro nero", un patrimonio che le aziende italiane sfruttano ancora troppo poco. Occorre una maggiore consapevolezza che conoscere in profondità i consumatori e il loro "viaggio" (cutomer journey) nel processo di relazione con la marca diviene sempre più un fattore critico di successo per adottare strategie di marketing e customer relationship efficaci e rilevanti, oltre che per creare esperienze coerenti tra i diversi punti di contatto.
Empower strategy with data
Gabriella Crafa, Head of Digital Practice Area di Focus Management
Anche la Crafa ha ribadito l'importanza fondamentale dei dati, "la benzina della strategia e della creatività". Nel suo intervento ha fornito importanti spunti per sfruttarli al meglio, partendo dall'analisi e arrivando fino all'elaborazione di una brand strategy davvero efficace e di un valido piano di go to market.
Sexy little numbers
Paolo Iabichino, Chief Creative Officer di Ogilvy & Mather Italia
Dati e creatività non sono due universi separati e distinti, ma un'abbinata che può trasformare le idee delle marche in esperienze straordinariamente rilevanti e ricche di significato per i consumatori. Iabichino è uno dei più stimati ed esperti professionisti dell'advertising in Itlaia e il suo intervento ha messo in evidenza come la pubblicità sia tutt'altro che morta e come il meglio deve ancora arrivare.
Brand 2.0 – the future of branding, marketing and customer service
Alex Hunter, Former Head of Online Marketing di Virgin Group
Uno dei protagonisti internazionali del marketing digitale ne ha illustrato le nuove regole mostrando come sfruttare al meglio i canali digitali per mettere i brand al centro dell'attenzione e per avere successo online.
Emailing like Amazon
Jordie van Rijn, Email and marketing automation consultant di EmailMonday
Ancora un grande esperto internazionale, che ha illustrato con chiarezza come utilizzare le email con la stessa efficacia di Amazon, la realtà di riferimento per la gestione dei dati e per la nuova economia dei marketplace. Van Rijn ha evidenziato molte delle lezioni che si possono imparare dal modo in cui Amazon utilizza gli smart data, gli automatismi e le tattiche di A/B test.
Panel del pomeriggio
GDPR
La rivoluzione nell'uso dei dati personali
Alberto Miscia, Head Of Deliverability & Compliance and DPO di MailUp
Avv. Marco Magli, Founder e Presidente di Lucerna Iuris
Avv. Massimiliano Lovati, Responsabile Consulenza Legale di Banco BPM
È stato un panel importante, quello di apertura della sessione pomeridiana della MailUp Marketing Conference. Il 2018 riserva alle aziende una data molto importante, infatti: il 25 maggio diverrà operativa la riforma europea sulla protezione dei dati personali. I tre relatori hanno messo in evidenza cosa comporta questa rivoluzione per le aziende e quali saranno le sue conseguenze pratiche, organizzative e legali.
DATA DRIVEN STRATEGIES
Dati, creatività e processi: la "tempesta perfetta" del marketing
Riccardo Plata, Director di Deloitte Digital
Emanuele Viora, Executive Creative Director di Deloitte Digital
Alberto Comunello, Head of Customer and Market Insights di Eon
Ancora protagonisti i dati, nel panel curato da Deloitte Digital, che si è concentrato sulla necessità di saperli interpretare e associarli a messaggi in grado di catturare la sempre minore attenzione dei consumatori. Nel corso dell'esposizione sono stati analizzati gli aspetto organizzativi e di processo necessari per una vera ed efficace autentica strategia di marketing omnicanale.
FUTURO DEL MESSAGING
Introduzione e moderazione panel
Maria Grazia Mattei, Esperta di cultura digitale e Direttore di Meet the Media Guru
Ricerca vocale: approfittare della rivoluzione
Ale Agostini, Partner e direttore di Bruce Clay Europe
Un grande esperto di SEO come Agostini si concentra sulla differenza tra pronunciare una chiave di ricerca piuttosto che scriverla. L'intervento è partito dal modo in cui Google tratta la ricerca vocale, per comprendere come si possa e si debba adattare a questa nuova esigenza la User Experience dei siti internet. Poi Agostini è passato dalla teoria alla pratica, condividendo un interessante test vocale fatto con Amazon Echo/Alexa.
La creatività me la fa il computer di mio cugino
Sergio Spaccavento, Executive Creative Director di Conversion Milano
Un intervento estremamente interessante e attuale, che ha illustrato quale potrà essere il futuro dei creativi in un mondo sempre più pervaso dall'intelligenza artificiale.
L'intelligenza artificiale per la personalizzazione dei chatbot
Giuseppe Rizzo, Researcher and Senior Data Scientist di ISMB
Un ricercatore talentuoso ha mostrato come l'abilità di personalizzare le risposte determina la qualità dell'esperienza utente. Nel mondo dei chatbot le tecnologie intelligenti si stanno spostando sempre più verso gli utilizzatori, determinando una personalizzazione nel comprendere le richieste e nel gestire le interazioni.
Un grande evento, quello di MailUp, che speriamo di poter ripetere nel 2018, con una nuova edizione. Di seguito la gallery fotografica dell'edizione 2017.