La community delle socialgnock va in tour
Partirà il 23 settembre "socialgnock On Tour", l'evento on the road della community selezionata dal Facebook Community Leadership Program nel febbraio 2018. Tappe a Torino, Genova, Firenze, Roma, Napoli e Bologna.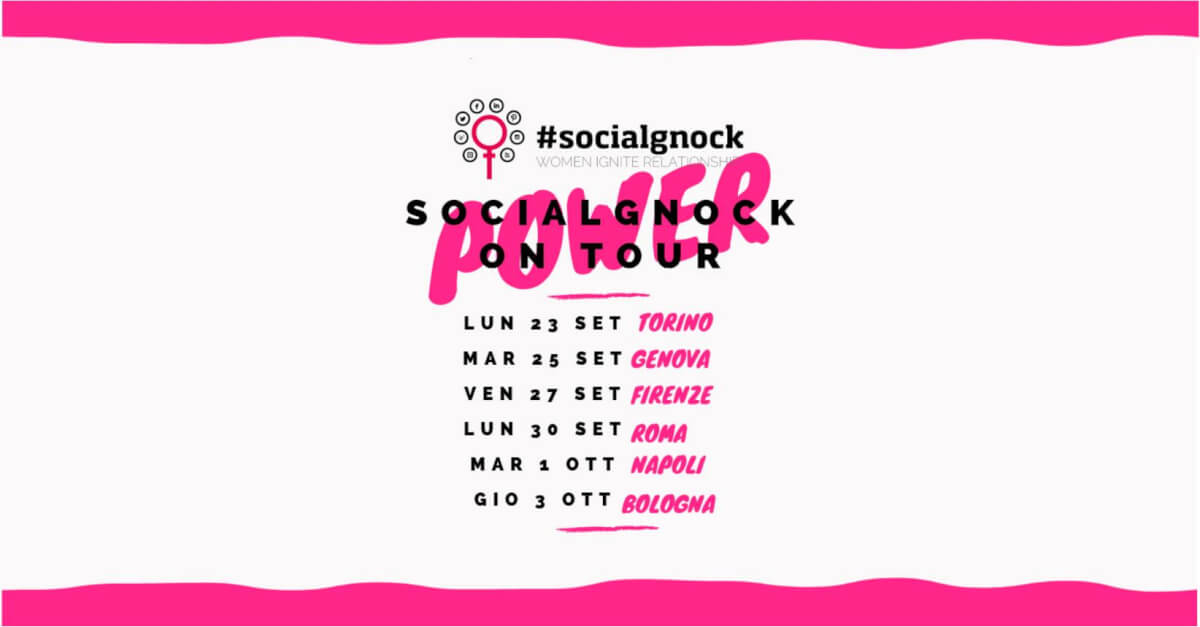 Saranno in 6 città italiane in 11 giorni, le "socialgnock On Tour". Il viaggio sarà svolto dalle fondatrici della community al femminile che conta circa 16.000 iscritte in tutta Italia, Valentina D'amico e Lorena Di Stasi. Il gruppo fu aperto su Facebook nel 2013 e raccoglie tutto il suo senso nel pay off: Women Ignite Relationship.
Con oltre 1.200 post, 25.000 commenti e oltre 400 nuove iscritte al mese, la community ha permesso in questi anni di creare amicizie, collaborazioni, sostegno, lavoro, mantenendo fermi sin dal principio i suoi 3 valori fondanti, zero barriere, 100% supporto, "easytudine", insieme ad una regola che è sempre stata rispettata: #nolink.
Nel corso delle tappe del Tour il format sarà uno solo: un workshop formativo nel pomeriggio e il community party la sera.
"Siamo pronte a viaggiare 11 giorni per raggiungere quante più socialgnock possibili in questo primo tour" dichiara Valentina D'Amico. "La community vive principalmente del contatto di persona e questo evento on the road ne vuole esserne la concreta dimostrazione. Essere state scelte da Facebook come una delle community italiane più perfomanti ci ha dato
la carica per dimostrare che il supporto è alla base di ogni tipo di relazione, personale e di business. Questa è la prova che un gruppo su Facebook può diventare una community e che la
community può diventare un movimento ha aggiunto Lorena Di Stasi.
AGENDA