CISCO e Intesa Sanpaolo cercano nuove startup tecnologiche
Call for Industry 4.0 Startups: c'è tempo fino al 10 settembre per le startup tecnologiche interessate all'acceleratore internazionale StartUp Initiative.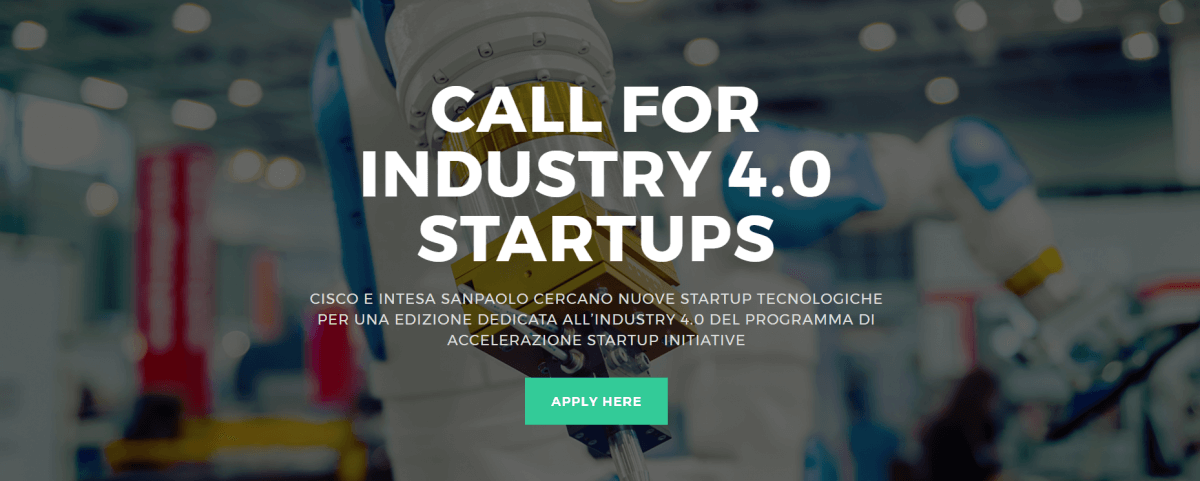 CISCO e Intesa Sanpaolo cercano startup tecnologiche operanti nell'Industry 4.0 per il programma di accelerazione internazionale StartUp Initiative.
Come partecipare
Per aderire le startup devono compilare l'online application form inviando anche un business plan o un executive summary del progettoentro il 10 settembre 2017.
Le candidature saranno valutate analizzando cinque elementi chiave: team manageriale, mercato, prodotto e stadio di sviluppo, barriere all'entrata e traction, economic.
Alcuni esempi di applicazioni target sono:
Asset tracking and management
Connected machines/products
Digital factory
Industrial augmented/virtual reality
Industrial collaboration
Industrial safety and security
Integrated supply chain
I Premi
Il programma può premiare i progetti con un finanziamento tra i 200.000 e i 5 milioni di euro.
Inoltre le startup selezionate potranno accedere gratuitamente ad un percorso di coaching specialistico possibile grazie alla collaborazione con i partner e i tutor dell'iniziativa.
I progetti più promettenti saranno presentati ad una selezione di investitori finanziari e di corporate, per aumentare le possibilità di networki e fundraising.
Gli incontri
7 e 8 ottobre Boot Camp (Torino): le startup ammesse parteciperanno enbrambi i giorni ad incontri di formazione alle quali parteciperà un angel investor californiano
25 ottobre Deal Line-Up (Milano): le startup formate presenteranno il proprio progetto ad una platea di player di settore, investitori e ricercatori che forniranno feedback e individueranno le finaliste del programma
23 novembre Investor Arena Meeting (Milano): circa 150 esperti tra investitori, aziende e player nell'ambito dell'innovazione valuteranno le startup che avranno a disposizione 10 minuti per presentare il proprio porgetto.
Per informazioni http://quattropuntozero-startupinitiative.com/