BRANDY: a Milano la terza edizione dell'evento per le strategie dei brand
Si svolgerà a Milano, nei giorni 18 e 19 ottobre presso gli East End Studios, il forum-evento Brandy, pensato da Quintegia e dedicato ai temi strategici dei brand.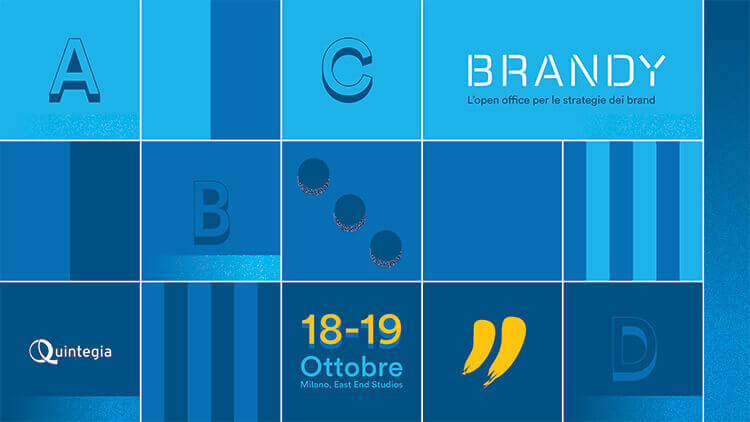 L'evento si rivolge a tutti coloro che sono interessati a remixare esperienze e prospettive da molteplici settori e punti di vista. A questa terza edizione sono attesi oltre 700 professionisti da oltre 200 brand e aziende per interagire e confrontarsi.
I BRAND rappresentano il cuore pulsante di ogni azienda e sono oggi investiti da cambiamenti epocali. Le tecnologie digitali, abilitanti e disruptive (internet of brands), i luoghi e i touch-point da ridisegnare (brand spaces & retail), le politiche di risorse umane da ridefinire (brands & humans), il made in Italy da ripensare.
Tra i relatori provenienti da brand di #BRANDY17 la Chief Digital Officer World Wide di Flos, il VP Retail Design&Construction di Geox, i CEO di MANILA GRACE, Miroglio Fashion e SKECHERS USA Italia, il Marketing Director di Miele, la Vice President Disney Media Sales and Partnerships e Head of Marketing Healthy Living Business di The Walt Disney Company Italia. Insieme a loro altre partecipazioni come quella de IFDM | Il Foglio del Mobile, il Retronaut Wolfgang Wild e il Colorizer di The Paper Time Machine Jordan J. Lloyd, per citarne solo alcuni.
INFO su www.brandyspace.com