Anche il coding nei Brera Design Days 2018
A Milano dal 12 al 18 ottobre la terza edizione di Brera Design Days: nel cuore della città sette giorni di talk, mostre e workshop gratuiti.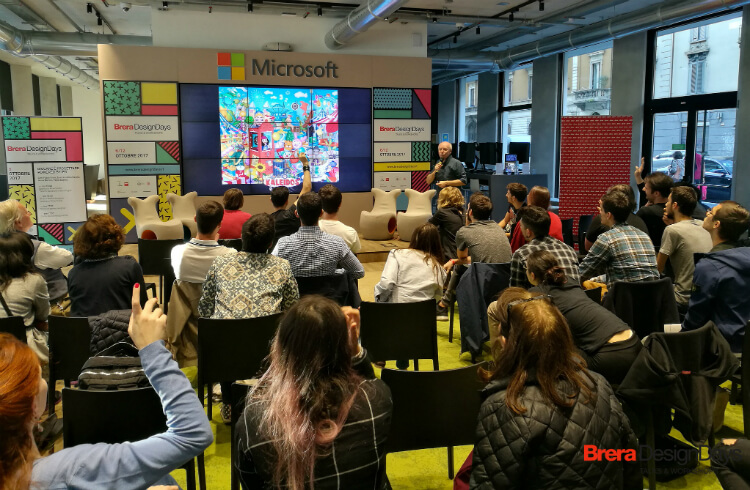 La terza edizione di Brera Design Days sarà protagonista a Milano dal 12 al 18 ottobre: nel cuore della città sette giorni di talk, mostre e workshop gratuiti.
Tema 2018
Design your life è il tema di quest'anno che sarà declinato sotto diversi aspetti: come il design saprà interagire con questi temi portando il proprio contributo.
Politiche urbane
Si parlerà di come, grazie all'impiego diffuso delle nuove tecnologie della comunicazione, della mobilità, dell'ambiente e dell'efficienza energetica, sarà possibile soddisfare le esigenze di cittadini, imprese e istituzioni, al fine di migliorare la qualità della vita.
12 ottobre 2018 in Fondazione Feltrinelli di viale Pasubio 5 e il 13 ottobre 2018 all'interno di Milano Luiss Hub for makers and students di Via Massimo D'Azeglio, 3
Grafica
Le arti grafiche sono lo strumento imprescindibile per dare forma ed espressione a tutto ciò che si vuole comunicare, al mondo dell'informazione. Siano prodotti, eventi, imprese si è alla costante ricerca del volto, del font, della cover, del colore, della forma e delle sembianze adatte strategicamente per "mostrare" la propria immagine e descriverne i contenuti.
In questo ambito sarà presentata la seconda edizione di MOSTRO: un evento dedicato alle arti grafiche e alla comunicazione visiva.
Dal 12 al 18 ottobre 2018 in Laboratorio Formentini per l'editoria di via Marco Formentini, 10
Industria 4.0
Esperienze, casi  e storie per raccontarel'impatto profondo e trasversale su industria, servizi, mercati, modelli di business, oltre che sul modo di lavorare e vivere.
Dal 12 al 18 ottobre 2018 in Milano Luiss Hub for makers and students di Via Massimo D'Azeglio, 3
Coding
Giocando a programmare si impara ad usare la logica, a risolvere problemi e a sviluppare il "pensiero computazionale", un processo logico-creativo che consente di scomporre un problema complesso in diverse parti, per affrontarlo più semplicemente un pezzetto alla volta, così da risolvere il problema generale. Con il coding quindi anche i bambini potranno risolvere problemi "da grandi", e diventare soggetti attivi della tecnologia, creando un piccolo videogioco e delle storie in pochissimo tempo.
14 ottobre 2018 in Microsoft House di viale Pasubio 21
Design Trends
Incontri, dialoghi, interviste con alcune delle figure più rappresentative del design italiano e non solo.
Designer, giornalisti, critici, aziende e ricercatori si alterneranno negli showroom-palcoscenici del Brera Design District, per raccontarci il mondo del design oggi, i trend futuri e le aspirazioni di Milano, capitale mondiale del design.
Dal 12 al 18 ottobre 2018 all'interno dei principali showroom del Brera Design District
Mostre
Tre le mostre in programma a corollario dei Brera Design Days.
Beato Design a cura di Paolo Ferrarini in collaborazione con il museo dei Madonnari di Curtatone
Si celebrano i patroni del design con la leggerezza di chi li ama profondamente, trasformandoli in rappresentazioni profane grazie all'occhio e alla mano di chi ha grande dimestichezza con le immagini sacre. Per questo sono stati coinvolti sei artisti di strada, sei protagonisti della pavement art italiana.
13 e 14 ottobre live performance; dal 15 al 18 ottobre mostra. All'esterno di Microsoft House, viale Papiniano 5
Tramezzino – Intermezzo amoroso a Milano di Paolo Bacilieri
Una dichiarazione d'amore a fumetti a Milano attraverso una breve vicenda sentimentale, tra architetture straordinarie, edifici simbolici e l'inventiva degli architetti che le hanno ideate.
Dal 12 al 14 ottobre dalle 14.00 alle 19.30 nella Sala Buzzati del Corriere della Sera, via Balzan 3
Mostro 2: Graphic Design Camp
​Un progetto di: Maria Di Pierro Losi, Marco Williams Fagioli, Marco Sammicheli che presenta a Milano, Designer, critici, progettisti e professionisti del mondo della grafica internazionale.La seconda edizione del festival dedicato alla comunicazione visiva e alle arti grafiche propone mostre monografiche e il premio "Il Mostro dell'anno" (una pubblicazione a cura di Mostro dedicata a un giovane graphic designer).
Dal 12 al 18 ottobre, Laboratorio Formentini per l'editoria, via Formentini 10
Programma completo su​ www.breradesigndays.it.