A Milano Oracle Cloud Day 2018, innovazione e trasformazione digitale
Con un grande evento al MiCo – Milano Congressi l'azienda ha puntato i riflettori sui trend tecnologici emergenti e sulle esperienze delle aziende italiane che hanno scelto il Cloud Oracle per affrontare il cambiamento e la Trasformazione Digitale.
Si è svolta il 22 novembre al MiCo – Centro Milano Congressi l'edizione 2018 di Oracle Cloud Day,  evento annuale che Oracle dedica alla innovazione cloud.  Al centro dell'evento e del suo programma due temi: i trend tecnologici emergenti – Intelligenza Artificiale e Machine Learning, in particolare  – e le esperienze di alcune delle realtà italiane che hanno scelto il cloud Oracle per affrontare le sfide della Trasformazione Digitale. Aziende che hanno implementato insieme a Oracle soluzioni in diversi ambiti, verticali, tecnologici, o di funzione aziendale: dall'ERP alle risorse umane, dalla security ai big data e analytics, dal marketing fino alla blockchain.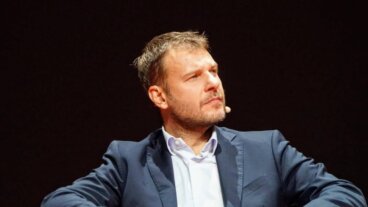 L'evento milanese è stato aperto da Fabio Spoletini, Country Manager di Oracle Italia, insieme al collega internazionale Neil Sholay, VP of Digital di Oracle EMEA, davanti ad una platea di oltre 1.200 persone. Spoletini ha evidenziato alcuni trend e numeri chiave per la progettazione di strategie tecnologiche e di business. Entro il 2025 il 100% delle applicazioni in cloud e delle piattaforme di servizi avrà funzionalità di Intelligenza Artificiale integrate; l'85% delle interazioni con i clienti saranno automatizzate; il 60% dei profili professionali IT che saranno necessari alle aziende nel 2025, oggi ancora non esistono, e dovranno essere creati.
Parlando di Intelligenza Artificiale Neil Sholay ha delineato la visione di Oracle rispetto a un futuro molto vicino in cui, secondo Gartner, innovazione e crescita dipenderanno dalla capacità di sfruttare al 100% la "tempesta perfetta" dell'integrazione di tecnologie emergenti, immersive e connesse per accelerare i processi decisionali e aumentare la proattività rispetto al cambiamento. Secondo Sholay, si va nella direzione di un'azienda "autonomous": ovvero un'azienda in cui, iniettando il potenziale di AI e machine learning in modo trasversale sui livelli operativi e di business, si creano le condizioni per realizzare una reale convergenza di tecnologie e competenze.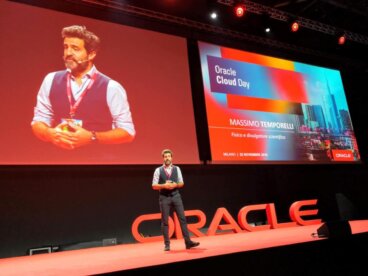 Di grande profilo e spessore l'intervento del guest speaker Massimo Temporelli, Presidente e Co-Founder di the Fab-Lab, che ha affrontato il tema dell'innovazione tecnologica dal punto di vista antropologico, paragonando le quattro rivoluzioni industriali che si sono susseguite nel corso degli ultimi secoli alla nascita e alla formazione del corpo umano, dalle ossa e dai muscoli fino ad arrivare al cervello, che nei prossimi anni sarà davvero in grado di cambiare il mondo.
La plenaria si è chiusa con una tavola rotonda moderata dal giornalista Fulvio Giuliani di RTL 102.5, che ha accompagnato alcuni gli intervenuti in un viaggio nelle tecnologie e nel cloud.
Gabriele Chiesa, Global CIO di Amplifon, ha delineato il percorso di digital transformation attivato dall'azienda nella sua internazionalizzazione, con l'adozione integrata delle soluzioni fusion ERP e HCM in cloud; Daniele Lunetta, Responsabile Innovazione Digitale del Ministero del Lavoro e Politiche Sociali, ha evidenziato i vantaggi per le persone e per l'organizzazione ottenuti dall'adozione di soluzioni Oracle HCM Cloud per realizzare modalità innovative di smart working per il personale; Alessandro Santamaria, Digital & Strategic Managing Director, Giglio Group, ha raccontato come l'azienda abbia scelto di sviluppare tutti i brand del fashion per cui la divisione Digital gestisce le attività di e-commerce su piattaforma Oracle Cloud, potendo così rilasciare progetti di altissimo livello con tempi altamente competitivi; Massimo Zuffi, Controlling and IT Director Manager, Massimo Zanetti Beverage Group, ha infine delineato motivazioni e obiettivi della scelta di adottare Oracle ERP Cloud per tutte le necessità di un Gruppo presente in oltre 40 paesi del mondo.
A seguire e per tutta la giornata si è tenuto nelle sale del MiCo un articolato programma di sessioni parallele e demo di innovazione in azione, con approfondimenti tecnologici, di business ed esperienze cliente. Molte le aziende di diversi settori che hanno raccontato i loro progetti:  Banca Popolare di Sondrio, Bitron, Bormioli Pharma, Building Energy, Certified Origins, De Agostini Publishing, Foodation, Fondazione Don Gnocchi,  Grimaldi Lines, Halldis, MAPEI, SIRAM, Terre Moretti Distribuzione, Tivusat, Unieuro, UPMC, WindTre.
A completare la giornata e l'evento una nutrita area Expo Corner, con alcune demo innovative realizzate con l'applicazione di tecnologie cloud Oracle:
Proxima City, esempio di "smart cloud city in action" abilitati da una piattaforma aperta, autonoma e sicura che contempla l'utilizzo di cloud, augmented reality e intelligenza artificiale;
CAR Racing, "Oracle Cloud in Action" dedicata a dimostrare la combinazione di vari servizi PaaS e SaaS integrati in una soluzione cloud completa end-to-end;
Smart Connected Factory in action, che dimostra la possibilità di gestire in modo organico i processi di supply chain con il supporto di applicazioni cloud
Hospitality in Action, demo alimentata dalla nuova tecnologia Oracle Bot e da altri 20 servizi PaaS e SaaS Oracle
Industry 4.0 in Action: real time IoT-based monitoring, manutenzione predittiva, blockchain, realtà aumentata… tutto quello che trasforma l'industria in Industria 4.0, "powered by Oracle Cloud".
Oracle Cloud Day 2018 si è svolto con il contributo di numerosi partner Oracle: Accenture, Deloitte, Business Reply, Red Reply, Reply Technology, SopraSteria (Platinum Partner); Computer Gross (Diamond Distributor); GN Techonomy, R1, TAI Solutions, Var Group (Gold Partner); Axana, Data Value, Equinix, RTT, Sinfo One, Tas Group (Silver Partner); e con il patrocinio di Clusit, European Cybersecurity Month, Italia Start up e PWN Milan.
Sito web dell'evento: www.oracle.com/it/cloudday/
Hashtag dell'evento: #CloudDayIT